Feed bridging has become a common event in the swine industry as feed rations change due to fluctuating input costs and the use of alternative feed stuffs to lower cost and gain feed efficiency. The "Flow Hammer" is a reliable and affordable solution that easily adapts to most existing feed bins. This patent pending product aids in the prevention of out of feed events in all phases of swine production.
Flow Hammer Features:
Helps minimize feed bridging events to keep feed flowing consistently to animals
Can be installed on a full or empty feed tank
Low maintenance and simple installation (no field modifications to the tank are required)
Control unit has both timed and sensor control modes
The timed mode uses an "on" time and a "cycle" time to control the Flow Hammer when the feed system is running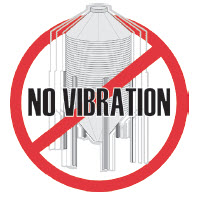 The sensor mode uses a sending device to detect a feed flow issue and activates the flow hammer. Once the event has ended the Flow Hammer shuts off
240 volt power supply required
Simple and concise control units, with test mode
Control unit can be remotely mounted or tank mounted with optional leg bracket.
While high frequency vibration devices are effective in promoting feed flow, their use can result in loosened hardware and metal fatigue potentially resulting in structure failure. The Flow Hammer's low frequency/high impact design promotes feed flow without damaging your feed bin or voiding it's warranty.
---
Flex-Flo Feed Delivery
SMARTFlex
The SMARTflex control unit uses a proximity sensor and timers to efficiently operate a Flex-Flo delivery system. The SMARTflex comes with digital display and push button programming for ease of operation.
SMARTflex Features
Maximum Run Timer included
An On Delay Timer prevents short cycling to the Flex-Flo motor
Cumulative Run Timer monitors/tracks feed intake
Alarm capable warning of system plugging or maximum run time exceeded