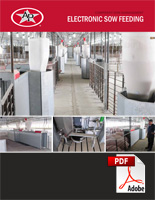 AP and Schauer have partnered to bring you Electronic Sow Feeding – the better way to feed sows. With a variety of new management options that target vaccination, heat detection, reproductive efficiency, nutritional supplementation and animal movement, ESF is a versatile staple for any operation. Whether a single feeder operation,10,000 sow farm, or any size in between, AP ESF can be customized to meet your needs.
…the Topo (feeding computer) system was simple to learn and operate…
~ Jake Wurz, Hog Manager, Montana
Schauer is the world's leading manufacturer of ESF systems
Thousands of units currently in use around the world
Expertise in system design and technical support
New TOPO: user-friendly computer interface system
Hand-held units enable paperless barn management
Feeds up to 80 sows per Compident ESF unit
Straight-ahead exit and retractable feed bowl maximize animal throughput
TOPO: COMPIDENT SOW FEEDING SOFTWARE AND HARDWARE
The TOPO Windows CE based system is straightforward and intuitive. Its displays provide a clear overview of the feed strategy and current status. External data backup is easy with the use of a USB stick. As with previous models, a backup battery ensures that data is stored reliably in the event of a power outage. The key data and input menus link up to Pig Manager Mobile, offering a "paperless" sow and feeding management system.
TOPO: COMPIDENT SOW FEEDING DISPLAY
Point and click navigation makes the TOPO system a simple yet technologically advanced pig management solution. TOPO provides a clear overview of the feed strategy and current feeding status.
Simple Design, Easy Maintenance
Keeping it simple and convenient for the user and the animal has advantages in cost savings and reduced stress. From technologically advanced control to easy access designs, the AP ESF is an easy choice. With optional double exit gates, stations can be programmed to sort animals based on production criteria.
Barn Design and Animal Flow
The AP/Schauer team has experience with a variety of pen housing options from total slatted confinement barns, to partially slatted sow barns, to deep bedded barns to extensive pasture based systems. The ESF system is totally flexible in its implementation and readily applicable to retrofitting existing facilities. Our expert team will provide concept designs for your ESF initiatives that include recommendations on pen size, shape and detail to help minimize the untoward effects of social hierarchy in group housing. We will also meet with your management to help identify the best combination of animal flow and grouping strategies that promise maximum productivity and ease of use (e.g. static vs. dynamic or pre- vs. post-implantation crating). There is no substitute for success as over 50,000 sows are being fed by Compident ESF stations in AP Schauer designed pen gestation barns across the US.
Let us at Walbern assist you in designing a system ideally suited to your facilities, animal flow and management style. Contact us today.